Safety, Health and Environment
We are fully committed to improving Health, safety and environmental performance across all areas of our business in accordance with ISO 14001, OHSAS 18001 and applicable legal requirements.
We shall fulfill this commitment through the following actions:
Recognize, assess and quantify potential Health, safety and environment risks associated with our activities and introduce control measures to eliminate, substitute or reduce the risks to acceptable levels.
Conform to national legislation and other industry best practices to which the company sub- scribes to;
Allocate adequate resources and necessary competency for implementation of health, safety and environmental programs;
Encourage consultation with and active participation of employees by continually seeking to im- prove the performance of health, safety and environmental management practices through periodic reviews;
Demonstrate responsibility and accountability for health safety and environmental management practices by all persons within the company;
Promote open communication with internal and external interested parties regarding our performance in health, safety and environment;
Provision of appropriate instruction, procedures and communication channels. This policy shall be reviewed periodically depending on the changes in national legislation, best practices and requirements accredited to by the company
The company's management system for health, safety and the environment is implemented through a strong top management commitment for the implementation of such policy including
Health and Safety Policy.
Security policy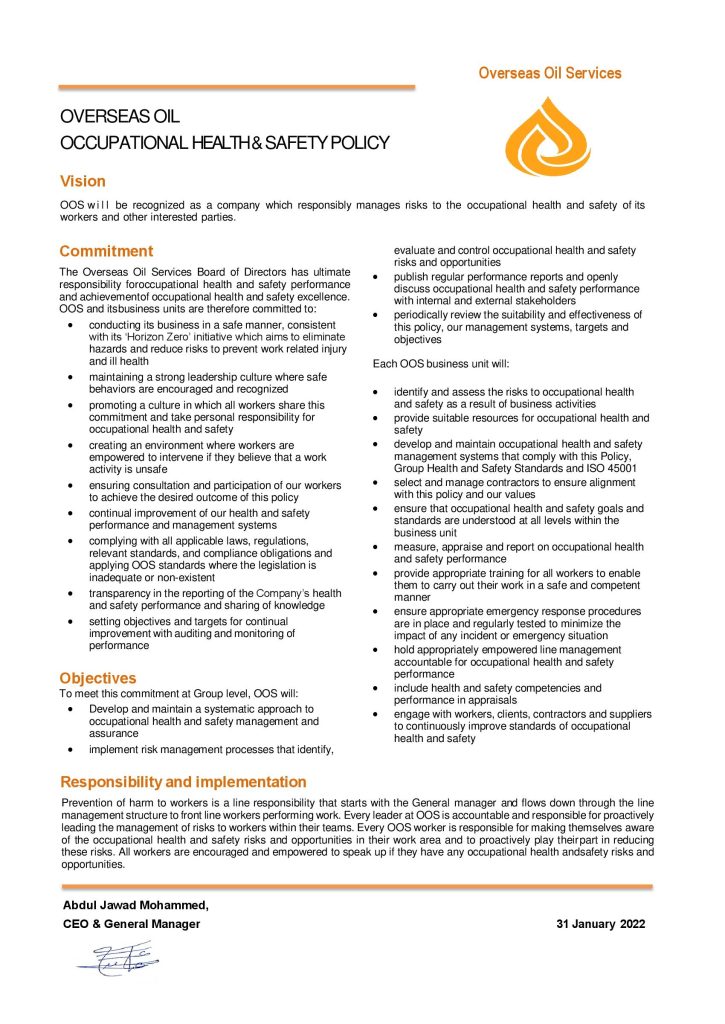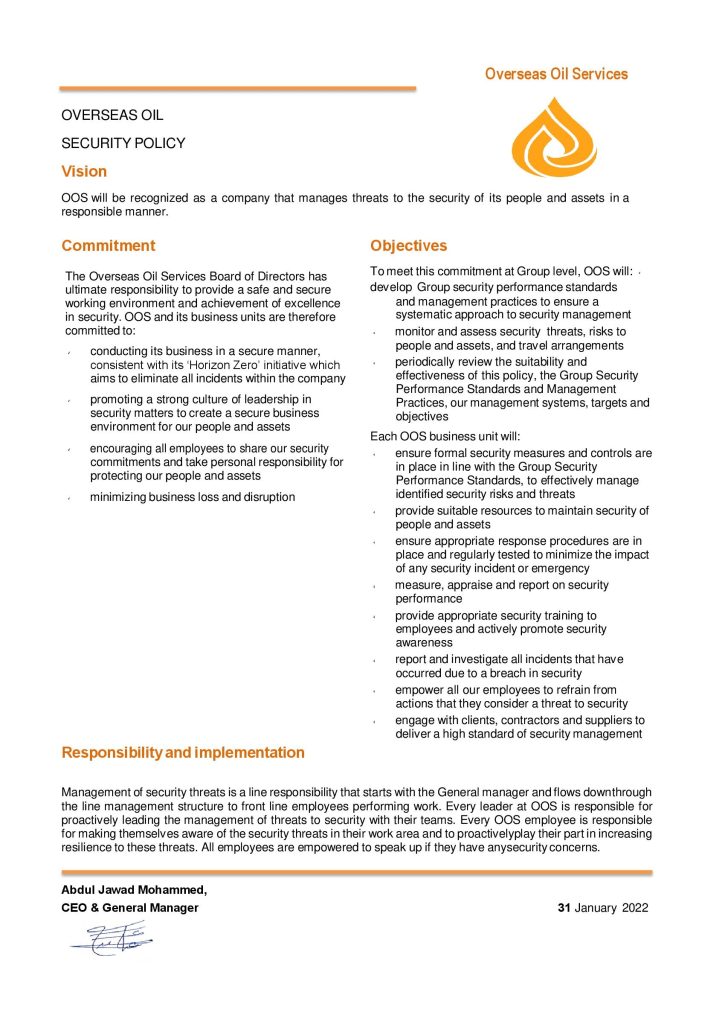 Quality Right from The Start

Quality Assurance
OOS provides high end and high-quality services in a timely fashion to all clients.
Our plan-to-project approach removes uncertainties around delivery and supply, while our long-standing relationships mean we always have access to project requirements on time.
Over the years we have invested heavily in equipment and production facilities to help speed up delivery times on vital infrastructure projects and get work done in even the most remote locations.
We adhere to the highest levels of environmental management, ensuring our Construction facilities are good neighbors, as well as good businesses.
OOS provides high quality, general contracting & project management services that satisfy customer's needs and expectations on quality, safety, reliability & timely execution of projects. It is the intention of the company to provide high quality services at competitive prices, that are managed correctly to give total satisfaction to the customer in fulfillment of their individual needs.
To this end, OOS formulates and implements an effective quality management system, which addresses the requirements specified in ISO 9001:2015.
We enhance through:
Quality, timely & reliable services
Effective utilization of manpower, equipment and other resources.
Creating an awareness with all the employees in fulfilling the customers' requirements.
A continual program of improvement in terms of creating added value for our customers as a result of our activities.
Ensuring customer satisfaction
Creating an environment and philosophy conducive to meeting the customers' requirements.